Super EBSAs (Ecological and Biological Highly Significance Areas) in the Arctic Marine Environment
The International Union for the Conservation of Nature (IUCN) and the Natural Resources Defense Council (NRDC) have undertaken a project to explore ways of advancing implementation of ecosystem- based management in the Arctic marine environment through invited expert workshops.
The first workshop, held in Washington, D.C. on 16-18 June, 2010, explored possible means to advance policy decisions on ecosystem-based marine management in the Arctic region. Twentynine legal and policy experts from around the region participated in the June workshop. The report and recommendations of the June policy workshop can be found here: <a href="http://cmsdata.iucn.org/downloads/arctic_workshop_report_final.pdf" target="_blank">Workshop report</a>
The second workshop, the subject of this report, was held at the Scripps Institution of Oceanography in La Jolla, California on 2-4 November, 2010. The La Jolla workshop utilized criteria developed under auspices of the Convention on Biological Diversity to identify ecologically significant and vulnerable marine areas that should be considered for enhanced protection in any new ecosystem-based management arrangements. A list of participants, the meeting agenda and other relevant documents are attached as appendices to this repor, see: <a href="https://www.nrdc.org/sites/default/files/oce_11042501a.pdf" target="_blank">Workshop report</a>
Simple
Date (

Revision

)

2016-01-25
Status

Completed
Maintenance and update frequency

As needed
Keywords (

Theme

)

ecosystem

marine

protected areas
Keywords (

Place

)
Access constraints

Copyright
Use constraints

otherRestictions
Spatial representation type

Vector
Metadata language

en
Character set

UTF8
Supplemental Information

You can customize the template to suit your needs. You can add

and remove fields and fill out default information (e.g. contact details).

Fields you can not change in the default view may be accessible in the more

comprehensive (and more complex) advanced view. You can even use the XML editor

to create custom structures, but they have to be validated by the system, so

know what you do :-)
Reference system identifier

EPSG

/

North_Pole_Stereographic (EPSG:102018)

/
OnLine resource
No information provided.
OnLine resource

SuperEBSA_0511.zip

(

WWW:DOWNLOAD-1.0-http--download

)

Shapefile
OnLine resource

Figure 1.34.tif

(

WWW:DOWNLOAD-1.0-http--download

)

Image
OnLine resource

superebsa_0511_4326

(

OGC:WMS-1.3.0-http-get-map

)

WMS Service
Hierarchy level

Dataset
Conformance result
Date (

Publication

)
Pass
File identifier

fd509af1-546d-427e-b01b-faab710fd65d

XML
Metadata language

en
Character set

UTF8
Date stamp

2023-02-13T14:00:07
Metadata standard name

ISO 19115:2003/19139
Metadata standard version

1.0
Overviews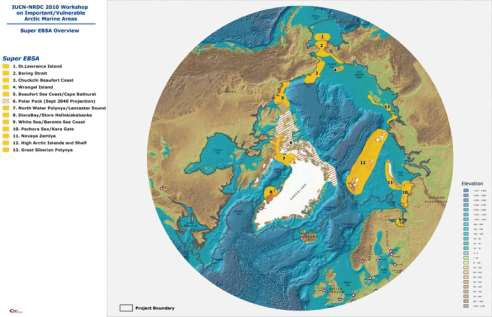 Spatial extent
Provided by
Associated resources
Not available